Analytics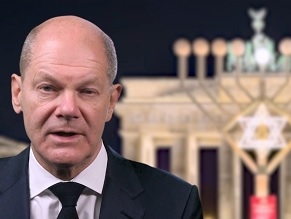 Federal Chancellor of Germany Olaf Scholz

Appeal of Ukrainian Jews to the Federal Chancellor of Germany

08.02.2022, Communities of Eurasia

Dear Mr. Olaf Scholz,

We, the Ukrainian Jews, know well from the history of our families what war is and what misfortunes it brings to all peoples.

We, like most of our compatriots, appreciate the diverse aid provided by the Federal Republic of Germany to our country, as well as the efforts of the Federal Government to maintain peace in the region. Unfortunately, the escalation of tensions on the borders of Ukraine and its territories occupied by the Russian Federation continues. We all now understand that the scenario of a sharp escalation of the security situation, up to a large-scale armed conflict with large numbers of victims and refugees in Europe, seems quite possible. Not only the territorial integrity and state sovereignty of Ukraine are at stake - they were violated by the Russian Federation eight years ago. The reaction of the international community, as is now obvious, was far from sufficient to influence the aggressor. Now we are talking about the very existence of Ukraine as an independent and sovereign state and, as a result, the stability of the entire continent.

We are well aware of the peculiarities of the priorities and values of the foreign policy of the Federal Government. However, now, in the face of a possible escalation of Russia's armed aggression against our country, we consider it necessary to call on you to take a more decisive action aimed to resist Russia's aggression in the first place, and to stabilize the situation only after success. We state with full responsibility that in the current circumstances, the obstruction of arms supplies to Ukraine through NATO's procurement system can only be interpreted as a concession under pressure from the Kremlin, which is logically unjustified and morally unacceptable. We all know very well what the policy of appeasing and encouraging the aggressor leads to. On the contrary, the supply of Ukraine with defensive lethal weapons can play a critical preventive role in stopping Moscow's aggressive plans. The unequivocally articulated support by the Federal Government for Ukraine's aspirations for NATO and European Union membership will also be a clear signal to the Kremlin of the futility of pursuing an aggressive policy. Due to both historical reasons and its economic and military-political position, Germany has a special responsibility for security in the region, its peaceful and stable development. We are convinced that the Federal Government is able to draw the only correct conclusions from the difficult lessons of history and provide the necessary support to Ukraine in this difficult time for all of us.

List of signatures on the Appeal of Ukrainian Jews to the Federal Chancellor of Germany.

As of January 30, 2022, the Appeal was signed by more than 350 Ukrainian Jewish activists and members of the community.