Analytics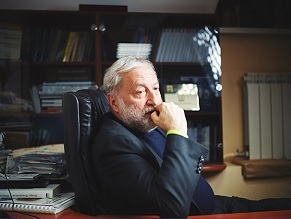 Photo credit: Ukrainska Pravda

Controversies around the Babyn Yar Memorial and Russian money

10.06.2020

A scandal around the Babyn Yar Memorial in Kyiv highlights problems in Ukrainian memory policy and its dependence on external influences. UkraineWorld talked to Yosyf Zissels, one of the leaders of Ukrainian Jewish community, to understand the situation better.

A scandal has recently broken out in Ukraine around the project of the memorial at Babyn Yar in Kyiv -- a place where hundreds of thousands of Jews, Ukrainians, Roma, Soviet prisoners of war were murdered during World War II. Babyn Yar is one of the most recognised symbols of the Holocaust in the Soviet Union.

There are competing projects to commemorate the victims. There is a project initiated by the Ukrainian Jewish community, but a new project was also initiated in 2016 with funds from Russian businessmen Mikhail Fridman, Pavel Fuks, and German Khan.

Last year its executive team was changed, and Russian cinema director Ilya Khrzhanovsky was appointed the project's art director.

However, a significant part of the Ukrainian artistic community has criticized Khrzhanovsky's vision for the memorial, saying they contradict the goal of commemorating the victims of the tragedy. Many Ukrainian artists signed a letter denouncing Khrzhanovsky's plans, including, as the letter says, attempts to "simulate moral choices of previous tragedies, instead of preventing them" and to "gamify death". Representatives of the Memorial project denied the accusations.

Another letter appeared from the Ukrainian cultural and research community highlighting the fact that the Memorial project is funded by Russian oligarchs close to Russian President Vladimir Putin. An English summary of this letter is at the end of this article.

UkraineWorld spoke to Yosyf Zissels, a dissident during Soviet times and now one of the leaders of the Ukrainian Jewish community, and one of the signatories of this letter. The full interview was published on Ukrainska Pravda in Ukrainian. Below you will find English excerpts of the conversation.

The problem of this memorial project is not its director or its art manager; the problem is that it is Putin project. Friedman, Khan, Fuks [Russian businessmen who are members of the supervisory board of this project, and are expected to provide financial support to it -- Ed.] are subordinates of Putin, businessmen who Putin allowed to rob Russia.

During the past six years, Russia has been waging war against Ukraine. People have been killed and injured in this war; territories have been annexed. There are millions of people who have suffered, and millions of displaced persons.

So let me ask: how can it be that Putin, who is fighting with us, who is killing people, who commits violence and annexed territories, allows his subordinates to spend 100 million dollars in Ukraine on a cultural project?

I have a long dissident history behind me. I spent six years in prison, including two years in Russia, in the Urals. I know Russia very well, I feel it very well. And I don't believe Russia sincerely wants to give Ukraine the gift of a Holocaust museum.

I think he [Putin -- Ed.] wants to show that Ukrainians are not a nation, that Ukrainians and Russians constitute a single nation, that Ukrainians are anti-Semites, nationalists, fascists, and Nazi. All the pobedobesie [a Russian cult of "great victory" in World War II, literally "demonic cult of victory" -- Ed.] which we see in the Russian politics, will be present in this memorial, I have no doubt about this. It will promote messages about the victory of the Soviets over the Nazism.

The Russians initially said that they had 100 million dollars and are ready to invest in this project. One can buy anyone with this money.

There is, for example, an important Jewish religious question. The project is planned to be built on the territory of cemeteries, and Jewish tradition forbids building on such hallowed ground. However, when Pavel Fuks came to Kyiv in 2016 and tried to convince me to take part in this project, I rejected his proposal. I asked him about the cemeteries, and he didn't seem to pay attention to it.

People with 100 million dollars will always be able to bribe someone into signing a paper allowing construction over a cemetery. We've seen this before -- when Dorohozhychi Metro station in Kyiv [this metro station was built on at the likely place of the Babyn Yar killings -- Ed.] was built, sacks of bones were taken away at night from the construction pits. The same thing happened when buildings on [current] Olena Teliha street were built.

There is a Ukrainian concept of memorializing Babyn Yar. It was defended last year by a working group witharound the History Institute of Ukraine's National Academy of Sciences.

They offered a very dignified proposal for Jews, for Ukrainians, for all people killed in Babyn Yar. The idea was to build a memorial park, on 70 hectares, called "Babyn Yar. Dorohozhychi Necropolis". It would include all surrounding cemeteries. This would be a big memory place for all those who died here: people of all ethnic backgrounds and all religions.

This concept also planned two museums nearby: the Museum of Commemoration of Victims of Babyn Yar and the Ukrainian Holocaust Museum. These museums would combine the memory spaces of Babyn Yar. Babyn Yar is more than a place where Jews were killed. It has a story dating back to the 19th century.

Ukraine is a young country, just 30 years old. Despite its young age, we have energy, we can find money and build a Ukrainian perspective on history, instead of taking "Trojan horses" from abroad.

Two years ago there were hearings on this project in the Verkhovna Rada (Ukrainian parliament). I told the management of this project, including Natan Sharansky [head of the board of the Memorial project] that this project is dangerous for Ukraine and its national security, because it is funded by oligarchs close to Putin.

But I suggested a compromise idea: to make a project together. Ukrainian and Russian projects would be united in a single initiative, with full parity in the supervisory board, executive bodies, research council etc.

However, Sharansky rejected this idea. So if the other side does not accept this compromise, I think this supports my argument that they want to make something hostile to Ukraine.