Analytics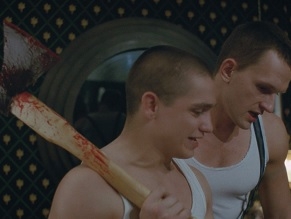 Neo-nazi friends of Mr.Khrzhanovsky

Turning Babi Yar Into Holocaust Disneyland

27.05.2020

any moons ago, I had the great pleasure of knowing and occasionally drinking with the philosopher Arthur Danto, who was unambiguously the greatest figure of 20th-century aesthetics. With literary flair and philosophical rigor Danto explained why Duchamp's readymades and Warhol's Brillo Boxes were philosophically important; he codified the contemporary conceptual definition of art. One spring, I was in attendance at one of Danto's packed lectures when an even more earnest philosophy student than myself stood up to deliver a probing question. The young adept wanted Danto to opine definitively on where the borders lay between the new art and the old morality. Could morally atrocious actions and forms constitute good art?

Without missing a beat, Danto replied in his lilting and inimitably ironical voice: "Look, surely you can kidnap a bunch of babies and boil them, and that would be art, but you shouldn't do it!" It is a pity that Danto is no longer with us to add a necessary coda: One should probably also not "appoint baby kidnapping, megalomaniacal architects of fantastical theaters of cruelty to helm Holocaust memorials."

Over the last month, the Ukrainian intelligentsia and opinion-forging classes have become engulfed in a never-ending debate over the proper usage of art and history. The event that triggered this deluge of philosophical wrangling was the improbable appointment at the end of last year of the wildly inventive and megalomaniacal Russian filmmaker Ilya Khrzhanovsky to the post of "artistic director" of the Babyn Yar Memorial Center in Kyiv—the most important Holocaust project currently in development anywhere in the world. The arrival of Khrzhanovsky, who had spent the previous decade working on his scandal-ridden film cycle DAU, has led to a cascading series of events—including the ouster of the center's staff, a veritable uprising of Ukrainian civil society and intelligentsia, and a political backlash—that threaten to keep the Babyn Yar museum from being completed at all.

The mandate of the Babyn Yar Memorial project, which was launched in 2016, is to create a memorial museum and study center for the more than 100,000 people—the vast majority of them Jewish with the exact number of victims remaining unknown—who were murdered on that spot by the Nazis in massacres that commenced on Sept. 29, 1941. Other than Auschwitz, Babyn Yar is probably the most symbolic site of the Holocaust in all of Europe, and certainly in the countries of the former Soviet Union. It is the emblem of the "Holocaust by bullets" that decimated Eastern European Jewry. The mandate of the Babyn Yar Memorial Center is to erect a museum and study center in the park on the northern rim of Kyiv where the murders took place and to which the Russian poet Yevtushenko dedicated his epochal poem. In all likelihood, the Babyn Yar Memorial will constitute the final such memorial to be completed during the lifetime of the last living survivors of the Nazi crimes.

Khrzhanovsky, who has no particular expertise relating to any aspect of the Holocaust, is a remarkably strange and explosive choice to lead such a project. One thing the filmmaker does have is gift for creating phantasmagoric period stage sets—and convincing post-Soviet oligarchs to finance them. For his DAU project, he built a retro Soviet city state within the Ukrainian city of Kharkiv. Unmoored from time, it operated for years only under its own bizarre Soviet laws, as well as Khrzhanovky's totalitarian whimsy—with the ostensible purpose of filming hundreds of hours of a proposed film cycle based on the life of the Baku-born physicist Lev Landau. Sustained by near-infinite resources, and megalomaniacal ambition, DAU, which started out as a film project, quickly spiraled out of control and transformed into an infamously dark experiment regarding human nature.

Last year I spent a week in the grandiose Paris installation of DAU and wrote about it for Tablet:

[The] extravagant and eccentric goings-on in Kharkiv where a walled-off set was erected inside of an abandoned city pool and transformed into something insane. The sex and violence on screen would be unstaged, nothing would be planned and anything would be possible. ... The director went about constructing a period Soviet institute where Soviet life would be enacted with total abandon and in perfect accuracy by participants wearing precisely recreated copies of Soviet clothing while living precisely recreated copies of Soviet lives. The institute—predictably also known as DAU—carried on after the filming was done as a self-sustained social experiment—a miniature city lost in time, complete with its own schools, cafés, dentists, opticians, and internal apparatus of repression—until Khrzhanovsky decided to conclude his experiment in living theater by arranging that it be ritually destroyed. The ruination was carried out by a gang of neo-Nazis who had also taken part in the filming.

Having completed work on his insane, decadelong Gesamkunstwerk, what theme could possibly match Stalinism in scale? Upon hearing of his appointment as the art director of Babyn Yar, those of us who had spent any amount of time in DAU Paris immediately expected that Khrzhanovsky would recreate a Holocaust version of DAU. That supposition was proven to be totally correct when Khrzhanovsky's Babyn Yar plans became public in April. In the guise of a Holocaust memorial, the plan was to create an all-encompassing and terrifying hyperreal theme park. It would be a self-consciously modern manifestation of the surrealist theories of Antonin Artaud's "theatre of cruelty," which sought to disturb viewers into new forms of understanding using radical and invasive gestures.

The process for entering the Babyn Yar memorial—a veritable labyrinth—would be the same as that for entering DAU. Visitors would first submit to an invasive and humiliating questionnaire, based on the answers to which, one's experiences would be assembled by a computer program—merely be the first of a series of power moves and minor cruelties to be inflicted in the course of providing a bespoke Holocaust reenactment experience. Just as in the Stanford experiment, visitors would be assigned either the role of "guards" or "prisoners": Some would play act at being Nazis, others taking on the role of Jews or local (collaborationist) auxiliary police. Cutting-edge technology would be used to create the innovative experience, as visitors would wear reality glasses and would move through the exhibition making decisions that would open up new storytelling arcs. One's own face might be projected by "deep fake" or hologram technology onto a Nazi camp guard as he committed acts of torture. Depending on one's choices, one might arrive at a cafeteria that fed one the luxurious food reserved for Nazi officials, or the rotten gruel ladled out to prisoners. It was as if Alice had fallen down the rabbit hole and arrived in Sobibor.

Yet for all of Khrzhanovsky's eccentricity, and the self-consciously amoral bravado of his approach, the technological innovations underlying his proposal were merely taking recent contemporary innovations in Holocaust memorialization to their grotesque logical conclusion. Khrzhanovsky's approach may have been consciously brutal, but it underlined the core tension that has always underpinned all Holocaust education programs: The actual experiences are so unimaginable and lay so far outside of our own everyday lived experience, that to impart what really took place requires bringing an individual as near to total annihilation and metaphysical evil as is possible—without actually killing them, or having them kill someone else.

Done "right," the mimetic replication of the Holocaust experience would cause universal post-traumatic stress and intergenerational trauma, which is generally why we don't do it. In January a Jewish Ukrainian acquaintance with whom I was discussing the project half-jokingly theorized that every 10th visitor to Khrzhanovsky's Babyn Yar center would be buried alive.

So how did a trickster provocateur known for blurring the line between life and sadomasochistic-film movie sets ever get appointed to oversee the presentation of a Holocaust memorial? The initiative to create the Babyn Yar Holocaust Memorial Center was announced during the state-sponsored 75th anniversary commemorations in September of 2016 (Tablet attended the event). The majority of the budget for the projected center, estimated at at least $100 million, would be provided by four Ukrainian Jewish businessman: German Khan, Mikhail Fridman, Victor Pinchuk, and Pavel Fuks. Though at least two of these men had numerous family members who were shot at Babyn Yar, the Russian provenance of at least some of their capital—all except Pinchuk have lived in Moscow, and made the lion's share of their fortunes there—would become a source of popular controversy and criticism in Kyiv.

In any other country, such an initiative would likely have included significant government involvement and oversight as well as indigenous engagement (the Polin Museum in Warsaw for example has a board composed entirely of Poles and Polish Jews, and the USHMM in Washington, D.C., is governed by Americans), and would have been structured as a more balanced private-public partnership. Here, the land on which the proposed museum is to be built is privately owned, and the ownership of the project itself is structured as a shareholders' agreement among several investors. While the supervisory board includes respected international figures such as former Director-General of UNESCO Irina Bokova, former Polish President Alexander Kwasniewski, former U.S. Sen. Joseph Lieberman, and the Nobel laureate Svetlana Alexievich, the Ukrainian government does not currently have a representative on the project's supervisory board, which some critics claim has not been doing very much supervising at all. Ukraine, it should be recalled, is a fledgling democracy which is grappling with massive problems in the midst of an ongoing conflict with a ruthless and well-armed neighbor that does not respect its intrinsic right to sovereign existence as an independent state.

According to the head of a major Western Jewish organization who is well apprised of the internal dynamics of the Babyn Yar Memorial Center, at least several of the four philanthropists had become dissatisfied with the direction of the project, and had questioned whether "the team in place would produce an innovative and emotionally gripping museum experience." Instead, a majority of the museum's backers wanted "to create something strikingly original for Babyn Yar, something that had not been accomplished elsewhere."

The relationship that Khrzhanovsky had cultivated in London with Mikhail Fridman, the Lviv-born co-founder of the Alfa Group and Russian's seventh-wealthiest citizen, would prove to be the key to his taking control of the reigns at Babyn Yar. Several sources familiar with the matter have related to Tablet that Fridman seems to have been bedazzled by Khrzhanovsky and lobbied for his candidacy vigorously. Some of the other businessmen were deeply uncomfortable with the appointment.

The filmmaker appears to have begun executing his fantastical vision for Babyn Yar around the summer of 2019. In November of 2019, he was named to the newly created position of the museum's artistic director, to which he was officially confirmed by the board on Dec 4. At least one critic privately derided the vote as a "rubber stamp operation." As the head of a major Western Jewish organization explained to Tablet, "That kind of private shareholder's ownership structure is what has allowed such decisions, which some would consider to be capricious, to be taken."

Led by the respected COO Yana Barinova, the Babyn Yar staff, which had been diligently working on the project for almost three years, were dismissed or left quickly after Khrzhanovsky's appointment. Barinova's damning tell-all interview with a Ukrainian magazine was strikingly titled, "Memorialization is not the same as marketing." She explained that after the staff "were informed of his candidacy for the position of artistic director, it became clear from the designations of the relative areas of responsibility that I could no longer serve as the executive director" of the Babyn Yar Center. She enumerated a stunning list of values toward which "the new leadership lacked sensitivity." These included but were not limited to: human rights, the value of human life, human dignity, the understanding of a social contract, civic virtue, humanitarian policy in general, respect for certain kinds of commemorative practices, existing memory models, the ideals of modern Ukrainian identity, the ideals of modern Ukrainian Jewry, and "the values of the modern Ukrainian political nation."

With the exception of the education department, the historians, and some legal people, the vast majority of the staff that had been working on the project (around three dozen people according to former project members) were immediately replaced with Khrzhanovsky's hand-picked staff, which was drawn from the Ukrainian art world. The number of museum staff would almost double over the next three months, but then went through periods of rapid attrition, with members of the organization being summarily dismissed without explanation. According to former staff, the quality of one's relationship with the mercurial Khrzhanovsky seemed to be the basic predictor of job security. Long before Khrzhanovsky had arrived, an architectural competition to design the future center had taken place with a winning design selected to much fanfare. Khrzhanovsky's appointment triggered the winning firm to walk away (or to be jettisoned by Khrzhanovsky, this remains unclear) from the project "leaving a hole in the ground," in the words of one commentator.

The line between DAU and Babyn Yar began to blur almost immediately. After his arrival Khrzhanovsky swiftly moved the center of operations for the Babyn Yar Memorial out of the office space in which it had been operating, and into the infamous, Stalin-era apartment decorated with era-appropriate artifacts in which he and his team had spent years preparing both the film cycle and the orgiastic Paris premiere of DAU. Just as he had during the work on DAU, Khrzhanovsky refused to give up the Stanislavski acting method approach. In an echo of his demand that the German government—the Berlin premiere of Paris DAU fell through—rebuild the Berlin Wall, Khrzahanovsky is reported by Ukrainian media to have proposed digging up the Babyn Yar ravine (where the bones of victims still lay) during one board meeting to which he brought along the Franco-American writer Jonathan Littell, whose novel The Kindly Ones is based on the fictional memories of an SS officer who takes part in the Holocaust by bullets. The proposal to dig up the remains of the dead was met with amazement and bemusement by the staff. The project member who complained of Khrzhanovsky's arrogance also pointed out that "the internal workings of Babyn Yar did not at all differ from what I have been told of the internal workings of DAU"—though in Khrzhanovsky's defense, and in contrast to DAU's prevalent office culture, no one informed Tablet of prostitutes, caviar, and cocaine being brought into the workplace.

Just as he had with DAU, Khrzhanovsky seemed perversely intent on replicating midcentury totalitarian methods in service of a program of commemoration of the victims of those same totalitarian systems. A senior member of the project who had quit in frustration explained that "it was Ilya's way or the highway, as he was very controlling." Another project member pointed out that no detail was potentially too inconsequential to lay outside of Khrzhanovsky's interest. This project member had once been close to him but had been ejected from the inner circle, explained that Khrzhanovsky's manner of speaking with subordinates was "toxic bordering on the totalitarian." Khrzhanovsky would lash out at his subordinates and intense relationships might gradually cool to the point where people might not be greeted in the hallways. Khrzhanovsky also personally selected the menu that would be available in the office canteen. It would not surprise those who had dined at the DAU theater project in Paris, or had spent time in the Kharkiv miniature city state, that the food he chose was predictably "Soviétique" (mostly meat-based dishes in variants most Westerners would never touch). He preemptively forbade the requisitioning of all vegan and vegetarian options.

"The fact that Khrzhanovsky and his team did not take into account, or even ask, for stakeholders input—not just from Ukrainian civil society but also from international Holocaust memorial institutions and Ukrainian official bodies—is what has led to this scandal, because there was no buy-in from any social stakeholder groups in his ideas," said Myron Wasylyk, the Ukrainian American former chief communications officer at BYHMC. As the Berlinale film festival approached in late February, Khrzhanovsky's attention was drawn toward the film festival where several of the DAU films had their festival premieres and contended for prizes. DAU: Natasha, one of the films that premiered in Berlin, was banned for distribution in Russia as "material propagandizing pornography," but it would garner a Silver Bear for its cinematographer.

Rabbi Yaakov Dov Bleich, the New York City-born chief rabbi of Ukraine and a member of the Babyn Yar supervisory board of directors, confirmed to Tablet that Khrzhanovsky had an outlandish vision for the project. He also confirmed that there had been a great deal of interest in getting someone who was "an original, outside-the-box thinker in charge of the presentation." However, Rabbi Bleich underlined that "the Holocaust memorial is in no way a continuation of DAU." He also ventured that it would be normal for any artist or director coming out of a large-scale project like that to want to "continue working in his habitual manner and to juxtapose those methods and techniques into their next project." Rabbi Bleich added that the filmmaker "is not in charge of the institution and he has nothing to do with the official historical narrative which has already been developed. His job is that of artistic director."

Not everyone attached to the Babyn Yar project agreed with this judgment about the actual scope of Khrzhanovsky's authority. The respected Dutch scholar and historian Karel Berkhoff, the author of Harvest of Despair: Life and Death in Ukraine Under Nazi Rule, had been attached to the project for three years as its chief historian. Berkhoff was principally responsible for leading the team of respected scholars that producing the authorized narrative of the Babyn Yar project. The narrative that he and his colleagues had assembled was very much an authoritative and consensual vision that took into account the views of those in Ukrainian society who held radically different views of the events being commemorated. Berkhoff resigned from his position in disgust in the first week of March. (In an interview with Ukrainian radio Khrzhanovsky insisted that Berkhoff's employment contract had expired.)

An individual involved with the Babyn Yar memorial, who has since departed, confirmed to Tablet that the historian had been publicly mortified by the direction that the project was taking. Berkhoff enumerated his concerns in a private letter to Natan Sharansky, the chairman of the Supervisory Board. Sharansky kept his own council for the first few weeks of the tempest that swept across Ukraine and Berkhoff's missive was soon leaked to the Ukrainian press.

The letter's tone is ruminative and sad, all the more powerful for its unadorned judgment and melancholic statement that he had once considered that the project "had a moral compass, but that [it was] no longer the case." It was the letter of a morally serious man confronted with an unfettered irreverence that is totally alien to him:

The post [of Artistic Director] was filled at once by the film maker Ilya [Khrzhanovskiy], who heretofore conducted the project DAU. Until then I had never heard of it, but DAU turned out to be controversial. For instance, the production process had included the filming of orphan infants seemingly with a mental disability, and at least one act of real sexual violence between nonprofessional actors. Genuine Russian Nazis were hired to be filmed, and presumably were paid. Female staff were asked disrespectful questions. I even found allegations online that the working conditions resembled that of a cult.

Almost at once, to my astonishment, a strong push began to replace existing staff at the BYHMC office. With very few exceptions, virtually all the good people (managers and content providers) that I trusted either were dismissed, or themselves decided to leave. This included Yana, the person who to me and so many others was the soul of BYHMC. Operations were rapidly moved to another building. I observed some of the turmoil during a stay in Kyiv at that time, and expressed my concerns to Mr. Khrzhanovskiy. Somewhere near the end of the disruption, a new CEO was appointed as well. It looked like a purge, all the more sinister because online, the team that I knew simply vanished. If anywhere on the BYHMC website a single final acknowledgment of departing individuals' accomplishments appeared, I did not find it.

It was at this point that the regional Ukrainian state government initiated an investigation of the possible mistreatment of babies taken from Kharkiv orphanages to film scenes in DAU of military research on the babies. The allegations of "torture" were lodged after the Ukrainian children's ombudsman had appealed for this investigation into the way the babies might have been treated during the filming of DAU: Degeneration, the second of Khrzhanovsky's films to premiere in Berlin. In the film that premiered in Berlin, the orphaned babies are filmed inside cages as Soviet scientists study and experiment on them. Khrzhanovsky has denied in multiple interviews with the Ukrainian media that anything but world-class care had been taken of the babies, who were accompanied on the set by nurses from the orphanage. The newly opened investigation into baby torture did little to increase Khrzhanovsky's popularity in Ukraine.

After all of Kyiv had a chance to absorb the details of the proposed "Holocaust Disneyland," the scandal reached the crescendo of its popular phase with the publication during the last week of April of a petition collectively drafted and signed by leading lights of the Ukrainian intelligentsia. The petition enumerated the case against Khrzhanovsky and concluded by calling on the Babyn Yar Center board to remove him. Was Khrzhanovsky's approach in fact an appropriate way for a thoroughly traumatized nation to deal with multigenerational trauma?

The petition was seen by many as a timely intervention against the privatization of public mourning by an out-of-control outsider with a malevolent vision. Others, especially those from the older generation who had grown up within the dissident movement, viewed such public proclamations with skepticism. Putting an end to the Soviet tradition of collective public denunciations against undesirable individuals or nonconformist artists was a core reason that they had spent years fighting the Soviets and sitting in the gulag.

Ivan Kozlenko, the reformist head of the Oleksandr Dovzhenko Center film archive, galvanized public opinion against Khrzhanovsky. He is a mild-mannered, slim, and elegant aesthete in his late 30s, who is deeply immersed in restoring the masterpieces of 1920s black-and-white Ukrainian modernist film. Suddenly he was transformed into a fierce polemicist publishing daily broadsides against Khrzhanovsky. The public debate that ensued in Ukrainian newspapers and magazines over the next month recalled many of the arguments that Danto had made half a century before.

Charging to Khrzhanovsky's defense was Sergei Loznitsa, Ukraine's most internationally renowned living filmmaker, who is also currently in the midst of producing a long awaited Babyn Yar epic. Loznitsa publicly accused Kozlenko of "writing a denunciation to the prosecutor's office." The claim of "denunciation" may have seemed like an absurd overreaction at first. Now with the investigation of baby torture open, there was the additional irony of those arrayed against a man who had playacted with Stalinist imagery in his loving assault on and paean to Soviet life being themselves accused of deploying Stalinist methods.

For his part Khrzhanovsky deflected all criticism of his vision onto an amorphous group "behind all this," which had marshaled public outrage. When one Ukrainian radio host followed up by asking him to identify the conspiratorial group, Khrzhanovsky responded that he already had a good sense of who was responsible but would know more soon enough. Speaking in Russian, he attributed the resistance to his grandiose plans to "Mrakobesya"—a beautiful and cacophonous Russian word which intimates a maddening of the senses by a reactionary fear of progress. The Russian tone of annoyance with his primitive and ungrateful Ukrainian subjects was not lost on anyone in Kyiv.

The scandal spurned an emergency meeting of the board and a waffling public response from Sharansky, who stated that people should not be sacked over social media storms but for not doing their jobs. He also stated that an emergency board meeting had been scheduled for June, during which the fate of the memorial's artistic director would be decided.

Speaking on behalf of the advisory board, Rabbi Bleich reiterated that the board had decided "unanimously" against dismissing K at the emergency meeting (which was held on May 5 over Zoom) and reiterated that the project had in place a CEO and governance structure overseeing him. "The board thought that Khrzhanovsky was never the main issue, and that those fighting the project on both the Jewish and Ukrainian sides were doing so for their own reasons," Rabbi Bleich told Tablet. The board seems to be in favor of giving Khrzhanovsky until at least the end of the year; they issued a press release the next day stating that "the artistic embodiment of the ideas behind the museum are being devised by professionals and will be presented for discussion by the Supervisory Board and the general public by the end of this year."

Several days later, on May 12, an even more consequential (and to some Jewish leaders in Ukraine, troubling) appeal was published by key Ukrainian political figures calling for direct intervention from President Volodymyr Zelensky, Prime Minister Denys Shmyhal, and Kyiv Mayor Klitschko. This was a call to essentially nationalize the project: "to take in cooperation with civil society, real responsibility and direct control over the creation of the memorial complex at Babyn Yar. Doing so would prevent external destructiveness and manipulative influences."

In sum, the most visible result of the Khrzhanovsky appointment is that the Babyn Yar Holocaust Memorial Center is now in real danger of never being completed at all. The Babyn Yar Memorial Center was originally slated to have its opening next year, in time for the 80th anniversary of the massacres, and the previous team had already been running far behind schedule. Now, it can no longer be assured that the center or museum will be completed in time even for the 85th anniversary of the mass killings, in 2026. When the opening of a criminal investigation into baby torture is coupled with Khrzhanovsky's track record of completing a two-year project in 14 years at mind-bending expense (DAU's final budget will never be known, but it distinguishes itself from the usual avant-garde art film by winding up costing something in the vicinity of a Lord of the Rings or Matrix sequel), Khrzhanovsky's leadership does not augur well for the timely opening of Babyn Yar. A well-apprised source opined to Tablet that "if they do not get rid of him now, and do not get the process back on track, the museum will never be built."

There are also those active in Ukrainian politics who think that sacking Khrzhanovsky would unleash a chain of events that would lead to the discrediting of the entire project of building a memorial to the victims of the Babyn Yar atrocity—and that such a process would be welcomed by some elements within Ukrainian society. The upsurge of criticism that emerged from Ukrainian civil society at the prospect of a narcissist-brutalist Holocaust theme park has been easy to meld with criticism from those in Ukrainian conservative nationalist circles who seek to either derail the project or take it over for the sake of advancing their own historical narratives, which seek to exculpate those Ukrainians who sided with the Nazis and committed atrocities.

The stakes of such narrative choices for Ukraine's future are high. In the wake of the events of the 2014 Maidan revolution and the war in the East (during which Ukrainian Jews accrued tremendous social capital, which might not last forever) Kyiv is charting its future intellectual and cultural trajectory. Broadly speaking, at least three schemas of memory narratives are present on Ukrainian territory—that of Russian-leaning Soviet nostalgia, that of a liberal and inclusive civic nationalism, and that of Ukrainian conservative nationalism, which has struggled to disentangle national resistance to the Soviet Union's genocidal assault on the Ukrainian nation and its national memory from the equally real record of collaboration by anti-Soviet nationalist elements with the Nazis, who some Ukrainians greeted as liberators. The Ukrainian experience of a search for historical heroes is in that sense unique, even if parallel historical revisionist processes (or reinterpretations, as some seem them) are taking place all across Eastern Europe. The injection of a megalomaniacal Russian filmmaker into the process has certainly "heightened the contradictions" inherent in the project of providing a historical narrative to a country whose memory banks were contaminated by generations of Soviet propaganda.

The expectation that the museum would speak forcefully about the Soviet POWs and the Ukrainian nationalists, communists and Roma who were shot by the Nazis at Babyn Yar is a legitimate one. In a perfect world there would be comity and mutual respect of ideas and understanding that the Holocaust is a unique crime—which does not mean that we cannot also adequately mourn an estimated 5 million non-Jewish Ukrainians (by this we mean residents of the Ukrainian Soviet Socialist Republic, Ukrainians serving in the Red Army and ethnic Ukrainian citizens of Poland) who were also murdered in one way or another during the war, but we do not live in a perfect world.

The Berkoff scholarly narrative attempted to wrestle with these thorny questions in good faith. However, there are those who want to seize the opportunity to efface the Berkoff narrative and replace it with one that would be less uncomfortable for some members of Ukrainian civil society. The National Academy of Sciences Institute of History has its own narrative of what happened to Babyn Yar, and many historians have a foot in both camps. There is now a movement afoot to hand more governance over the project over to the Institute of National Memory (which is no longer being helmed by the controversial nationalist historian Volodymyr Viatrovych), whose new director is a previous head of the Babyn Yar Memorial Center education division, who by all accounts has a much more liberal and broad-minded vision than his predecessor.

"Khrzhanovsky is a poison pill," one Jewish institutional leader commented, "but he is very useful to many people as he has provided a target of convenience for everyone who wanted to attack the project for their own reasons. He has also created a tremendous problem for a sitting president of Ukraine who is of Jewish descent. If he is to leave, the question is what will happen the day after he is gone?"

Indeed, being of Jewish descent and from the Russian-speaking part of the country, President Volodymyr Zelensky has thus far been much more measured than any of his predecessors regarding Jewish and Holocaust memory issues. It is an ordinary Ukrainian irony that the country's first Jewish president will need to be more discreet than his predecessor, Petro Poroshenko, was regarding Babyn Yar. Poroshenko, whose cultural policy was one of support of a national conservative cultural vision of the Ukrainian nation, was an unapologetically vocal supporter of the Babyn Yar Center and an ally of the Jewish community of Ukraine (his presidential chief of staff, Boris Lozhkin, is now the head of the Ukrainian Jewish community).

Would the current Ukrainian government be able to get deeply involved in this whole farcical mess even if it wanted to? Any project that would be built by government consensus and financing would necessarily have to be built on a much smaller scale than the original memorial. One board member who asked not be identified suggested to Tablet that Khrzhanovsky's potential ouster is the event that might trigger the alienation of at least some of the project's billionaire backers, and might cause enough havoc to scuttle everything. Others close to the project view that argument as a pretext to keep Khrzhanovsky in his position.

Yet if Khrzhanovsky's dismissal would lead to the memorial project's wealthy backers pulling out, some believe that the money to complete it elsewhere could be found. "I believe, based on my conversations with numerous Jewish activists and communities in the United States, Israel, and Europe, that generally the Babyn Yar story is so compelling that the financing could be found to build the museum on a smaller scale, even if some of the current financiers were to leave," said Myron Wasylyk, the former chief communications officer for the memorial.

The men and women financing and overseeing the Babyn Yar Center have an excruciatingly difficult decision to make. Should they bow to public pressure and purge an irreverent joker from the pack before he can build his Holocaust Disneyland out of the cards that he has been dealt? Or will doing so cause the whole house of cards to collapse? Should the wildly and totally undisciplined Khrzhanovsky even be trusted to complete Babyn Yar without tremendous internal conflict and exorbitant cost overruns? Whatever happens, Khrzhanovsky's legacy in history is likely already assured. With DAU he forged a grandiose, brutalist reflection of Stalinist totalitarianism out of the raw material and force of his own ego. Now, he will certainly be remembered as the first man to transition directly from directing a film cycle starring neo-Nazis to helming a Holocaust memorial.

BY VLADISLAV DAVIDZON

Vladislav Davidzon, the Chief Editor of The Odessa Review, is a Russian-American writer, translator, and critic. He was born in Tashkent, Uzbekistan, and lives in Paris.