World Jewish News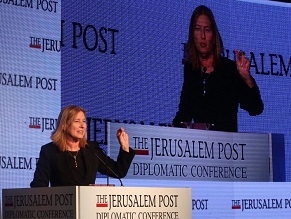 Tzipi Livni at the JPost Diplomatic Conference. (photo credit:MARC ISRAEL SELLEM)

Livni: Global wave of antisemitism has hit the United States

24.11.2016, Israel

The free world must fight back against a wave of antisemitism and xenophobia, Zionist Union co-chairwoman Tzipi Livni said at The Jerusalem Post Diplomatic Conference in Jerusalem on Wednesday.

"Antisemitism is raising its ugly head in different parts of the world. To see a Nazi salute in the United States of America is something I can't even absorb," she said, incredulous.

Livni referred to widely circulated footage from a conference in Washington of the white supremacist group that calls itself the "alt-right," which ended with participants hailing US President- elect Donald Trump with a Nazi salute.

Trump disavowed the group's support in a subsequent briefing to The New York Times.

Antisemitism, Livni said, is "not just a problem for Israel, as the state of the Jewish people. It is a problem for the entire international community."

It is also part of a broader picture of spreading xenophobia.

"The world is a crazy place," Livni said, lamenting that it "isn't moving forward; it's doing a quick rewind."

With religious wars in the Middle East and refugees reaching the shores of the West, Livni lamented the spread of "fear and hatred through high technology, challenging the values of the free world from the inside."

As a result, "extreme leaders who are spreading hatred gain more support."

Livni said Israel should fight xenophobia as part of the free world, which shares values with the West, and as a Jewish and democratic state.

"Equal rights for minorities is part of our Jewish values. 'Love thy neighbor' is written in the Bible," she said.